Quality & safety
About us
Certified
Since its incorporation in 1986, Stevens Engineering has aimed at continuous quality control and safeguarding with respect to safety and the environment.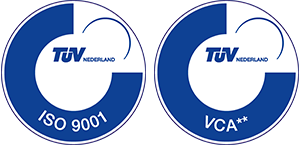 At every project, we aim at a proper balance between organisation, deployment of manpower, required knowledge, and working methods and procedures to achieve optimum results under safe conditions.
Since 1994, Stevens Engineering has been NEN-EN-ISO 9001-certified, and has held a VCA** certificate (Veiligheids Checklijst Aannemers, Safety Checklist Construction Companies) since 1997.
Disclaimer:
All our quotations and deliveries are subject to our general terms and conditions.
All our purchases are subject to our general purchasing terms and conditions.
Processing your personal data is subject to our privacy statement.
Click here for our cookie policy.
When an e-mail is sent to reactie@stevens.nl, your name and e-mail address will be used exclusively to reply to your e-mail.